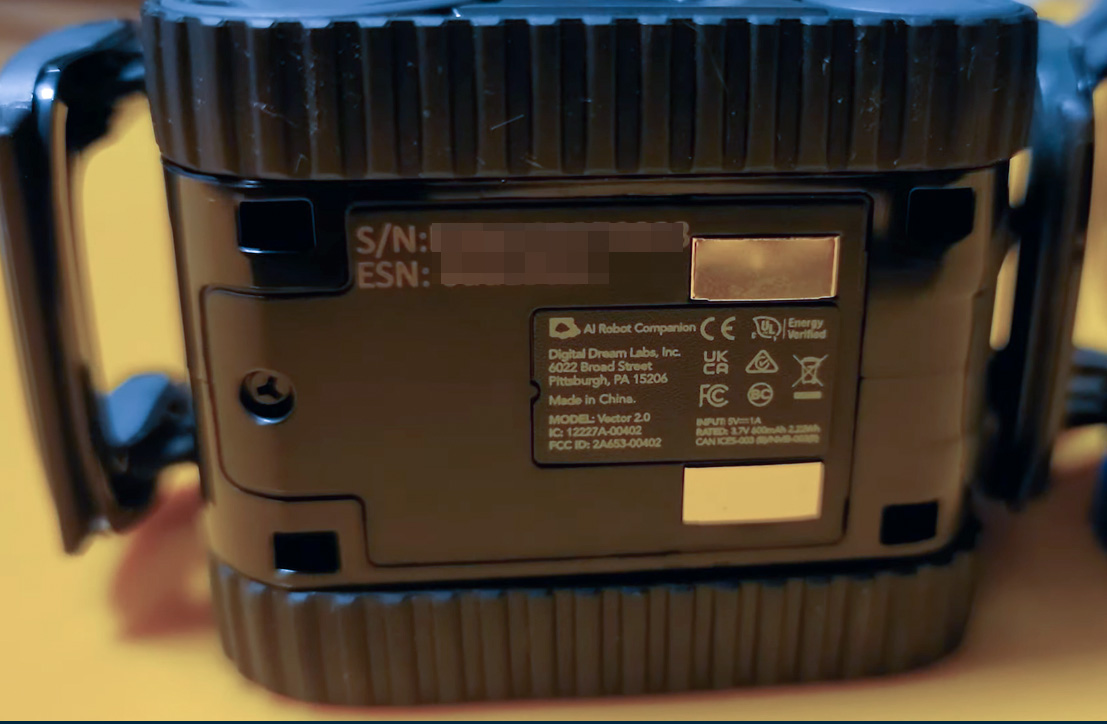 The first Vector 2.0 units are arriving at customers. So far it look like these were units that were shipped from Pittsburgh and only to the USA. It also looks like DDL does not honor the time the robots were ordered, and it's not the first persons that ordered that also get their robots first. They most probably just want to get out some robots for positive publicity.
However: There are already some obvious problems.
First: The battery door for the so called "user changeable battery" uses a nonstandard screw (see image above from an early unboxing video). Not much people will have a tool handy for that. So in almost all cases the user will have to buy a tool to remove the battery case lid to change the battery. I have no idea on why a company would do it like that instead of just using a cross-recessed (standard Philips) screw. Forgive me the cheap pun, but the users are screwed … 😉 Maybe DDL wanted to increase the sales of specialized screwdrivers, has anyone checked if Hanchar just bought a screwdriver factory? … (kidding).
Second: I've got reliable reports of Vector 2.0s overheating at only 24 degrees Celsius (that's about 75 degrees Fahrenheit). This is not only one unit, so it could have been a fringe case. This is very concerning in my opinion, if DDL for example has unoptimized code or there are problems with the newer batteries that create even more heat problems than the first generation Vectors had, this would be quite bad. From the past we know that testing was probably not very professional (if it had been, a lot of the problems that delayed the production should have been discovered months ago during the testing that by DDL's claims took place last october).
This needs more confirmation and that will roll in as more Vector 2.0s are delivered to users, but if the heat problem is actually true, or even if only a part of the production suffers from it and the robots  suffering from it need to be returned and exchanged for working models during warranty, then DDL are screwed for good, even without a nonstandard screw. Especially if these problems arise with units shipped outside of the USA, doing warranty for them would be a nightmare.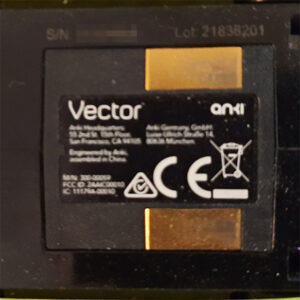 Third: Also from first report it looks like the robots on firmware 2.0 are not able to find back to the charger better than 1.8.x models. That got far worse with the newer firmware versions than it was on 1.6, and it looks like this problem was not solved.
The next days will be very interesting as more robots arrive at their destinations and informations come in.
And have you noticed that the name "Vector" is missing from the underside of 2.0? It only says "AI Robot Companion". On the underside of the old Anki robots you can clearly read "Vector" (see attached image). Am I the only one who finds that very strange?
UPDATE: 
Actually, if you look very, very closely at the tiny characters, you see "MODEL: Vector 2.0". Sorry for the confusion. I still wonder why that is not written bigger in the place where it reads "AI Robot Companion".