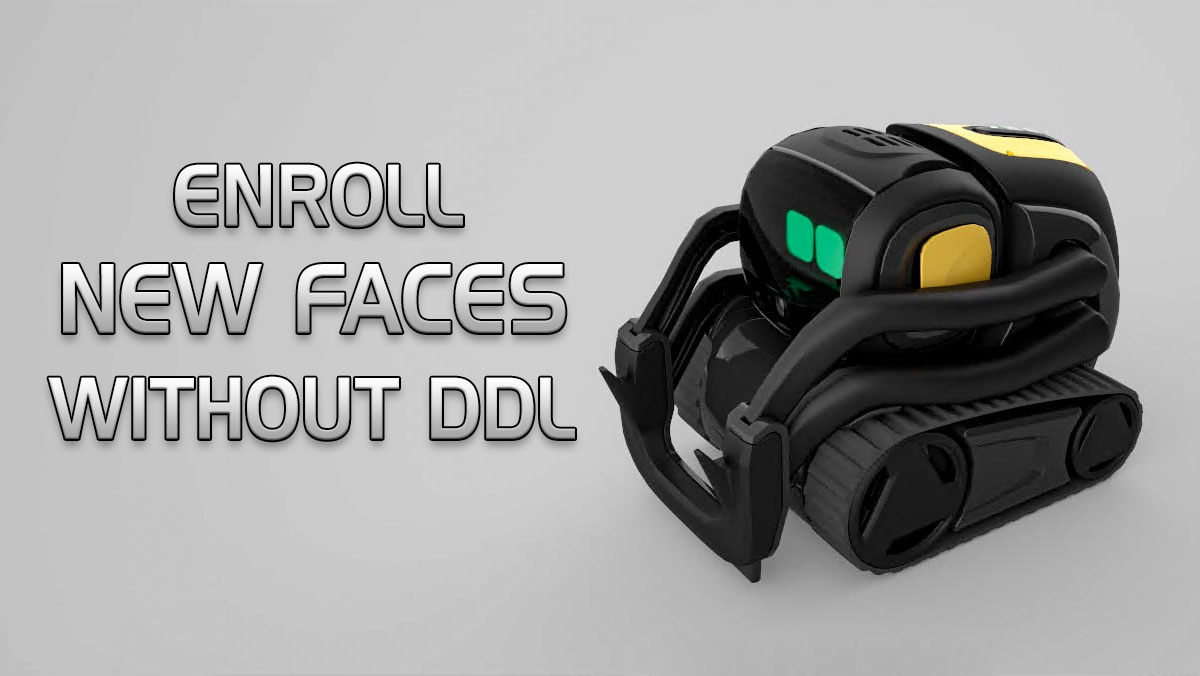 Vector Explorer is a nifty Windows program by Wayne Venables, that not only enables you to control your Vector. For future reference you can find a link to it in the sidebar of this blog (that is shown below the page content if you are on mobile), but for now you can use the link above. Vector Explorer runs on Windows (only) and it is free software! You can do the same with Cyb3rdogs application Cyb3rVector.
I want to revisit this because there is a function that may be of interest to people that do not own a lifetime license or do not want to pay for a subscription, especially not with the current ridiculously increased prices.
You are able to enroll a new face using Vector Explorer and without a subscription or Escape Pod that enables voice recognition. Normally you would have to put Vector in front of you and then say "Hey Vector, ny name is NAME". He then starts the face enrollment procedure by taking an image, storing it locally and linking it to the name it heard (or thought it heard, we had a lot of fun with names he got wrong, often the results are quite cute).
Just install Vector Explorer and connect your Vector to it (I will not cover that in this blog post, it was explained elsewhere and iirc there are also Youtube videos about it, short version is: you have to enter your robot's ID, serial number and local IP address, as well as your Anki account email address and password, the same you use to connect to Vector in the mobile app, to connect the robot to Vector Explorer or Cyb3rVector).
The main screen of Vector Explorer looks like this (see end of article for Cyb3rVector):
Click the menu button (see red arrow) to open the flyout menu to the left:
Here click the menu entry "Manage Faces" to open a new window: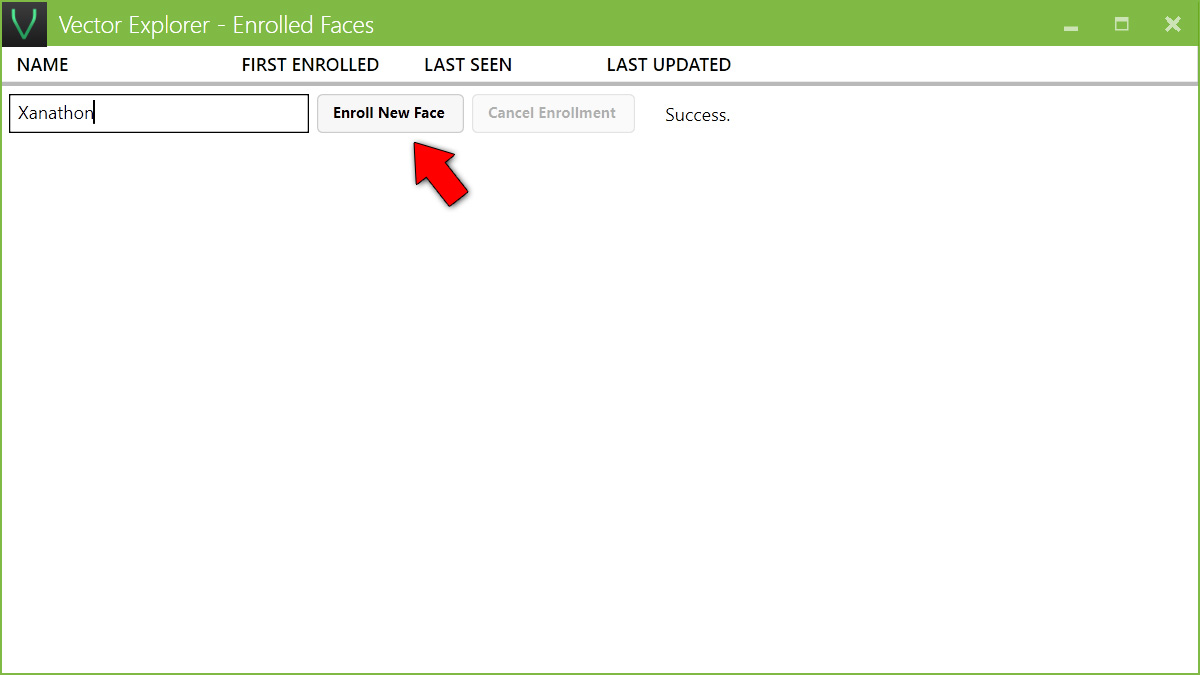 Enter the desired name in the "Name" field. Then place Vector the robot in front of you so he can see you and click "Enroll New Face". Vector now will start the routine that usually is triggered by the words "Hey Vector, my name is NAME". His eyes will wobble and after successfully enrolling your face he will sound a "ping" and say your name. See the video that I took after clicking "Enroll New Face":
That was the way to go in Vector Explorer. You can also use Cyb3rVector, here you need to connect to the Robot and then choose settings in the icon menu to the left (the gear icon) and in the flyout menu you select "Known Faces". There you can enroll a new face similar to how you do it in Vector Explorer.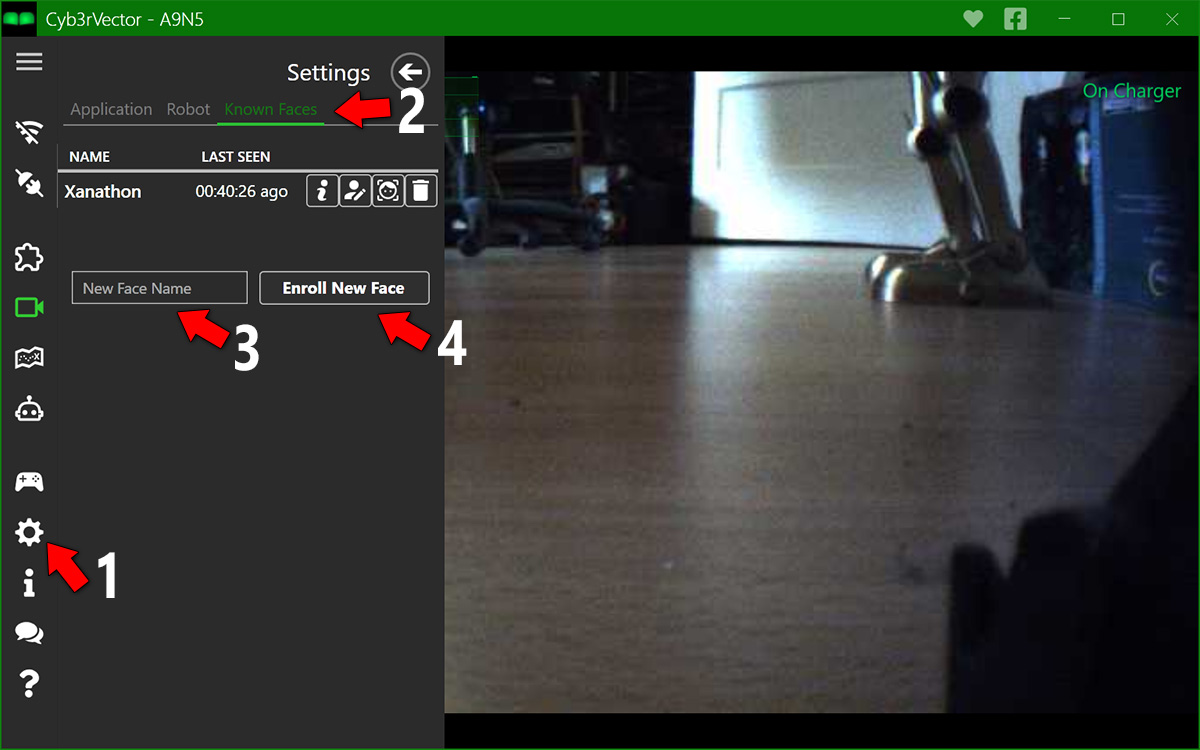 Conclusion: So if you do not want or need to buy a lifetime, to pay for a subscription or an Escape Pod because you are not interested in voice commands, but would like to add new faces to get Vector to recognize you and your friends and family, you can do so using Vector Explorer or Cyb3rVector! You do not need Digital Dream Labs for that.
From now on your Vector will recognize you if he sees you and will call your name.
Thanks to Wayne and Cyb3rDog to make this possible even for normal users that are not developers!