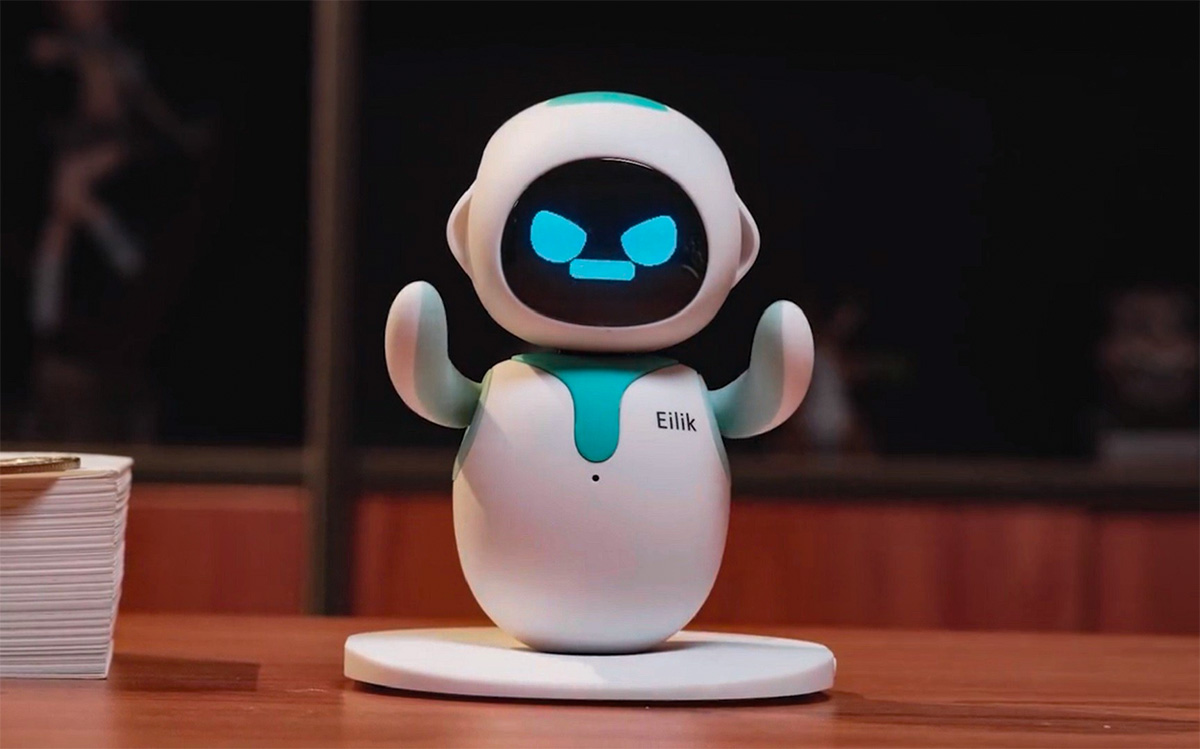 Originally this page was set up to write about coding and expanding Vector the robot, especially with OSKR, the Open Source Kit For Robots that Digital Dream Labs financed via that infamous Kickstarter campaign.
Later I added articles about other interesting personal robots.
It is abundantly clear by now that OSKR was a lie and a scam. DDL never provided the OSKR promised on Kickstarter that should enable users to expand Vector's functionality. There is no toolchain, there are no tools, there is no documentation worth the word. There is only a partially unlocked OSKR image that lets you change some json parameter files inside the robot and not much else. No coding of new functions, no "plugin store". And most probably this will never see the day of light.
From what we hear from that desolate company DDL they lost all their original staff after they were not paid, it looks like they now tricked new people into working for them that have to start new from scratch (partly because the extremely bad project management by Hanchar we had to witness from the start). And we also hear from the DDL direction that OSKR is no priority, because it does not make any profit. First: It was already paid for in the Kickstarter campaign. It does not have to generate profit. Not providing it is a scam. And they are so hostile they still ban people from their Facebook groups or do not approve the simplest pleas for help from users and customers. Disgusting.
With the other robots available it does not look better. Emo is cute and all, but he is way too limited for my tastes (and he is nowhere near as charming as the Anki Vector is). There is not real SDK whatsoever and it does not look like there ever will be one. I bought the Go Home station and that has bugs with the lights not switching off, constantly blinking annoyingly and they turn on again on themselves when switched off – no software fix for weeks on that.
Eilik is nothing more than a toy, and one that is often more annoying than and that was badly engineered, proven by the amount of SD card failures and botched firmware updates. And it is not autonomous at all (of course not, since it's not mobile).
Loona has a lot of problems months after launch (obstacle avoidance is a big mess) and the charger that should allow autonomous behaviour was postponed with the usual cheap excuses (and as I expected the delay was communicated far too late, as usual with KEYi Tech – they desperately still have to improve their communication). Also from what KEYi Technology said in their statement it does not even look like they want Loona to be real autonomous. And my biggest issue with them: They promised a real SDK in their Kickstarter campaign, not that frustrating Blocky coding stuff you can only use on a phone or a tablet, and they avoid answering questions on that. So it's a good bet that here also nothing will be released in that direction anytime soon. Instead they implement that mansplaining AI idiot ChatGPT that no one asked for (and the usage in the robot, especially one advertised as a toy or companion for kids is legally questionable for multiple reasons in a lot of countries). They wasted their development time on implementing ChatGPT instead of providing the promised SDK (that was paid for in the Kickstarter campaign). Also there is nearly no advancement in the international repair centers promised for february. I considered buying a ClicBot, but after these experiences I will definitely not do that.
Doly was canceled and now their creator releases a "DIY version" on Hackster that is missing crucial parts to actually build it. When asked about this he avoids answers. So that so-called "DIY version" is a big public relations smokescreen that actually cannot be build.
So I feel like coding personal robots and/or doing major custom changes to the firmware is going nowhere. Wire-Pod and VectorX are great, but they are external solutions you can only do limited extensions with. Real firmware changes are not possible. They are still a very good way to get rid of DDL altogether.
And I am really, really tired of just talking about that unprofessional, unethical joke of a company that is DDL that scammed a lot of people out of money for an OSKR that will never come and who continue to act highly unprofessional und user-hostile by not communicating their server outages in a transparent way and that keep tinkering. Or that send out robots to new customers immediately instead of honoring the preorders done in november 2020. And that degraded the Vector firmware again and again since taking over instead of improving it (also due to their incompetent tinkering).
After all these experiences I am also very, VERY reluctant to invest in a personal robot crowdfunding ever again, since all of them are desasters from a developer standpoint.
For the time being I will tune down activity here until I am clear if and how I really want to continue with this page. At the moment I have other hobbies and topics that are way more fun and satisfying and not taken hostage by hostile, unprofessional or incompetent companies. It is way better to concentrate on open source than on unreliable companies (at least for me).
If you want to see what I do (besides other things) you can for example have a look at xanathon.com or https://mastodon.art/@xanathon. Or 3D-printing Star Wars droids and other nerd stuff.
I am sure they will pop a bottle of champagne at DDL when reading this. They can go to hell.