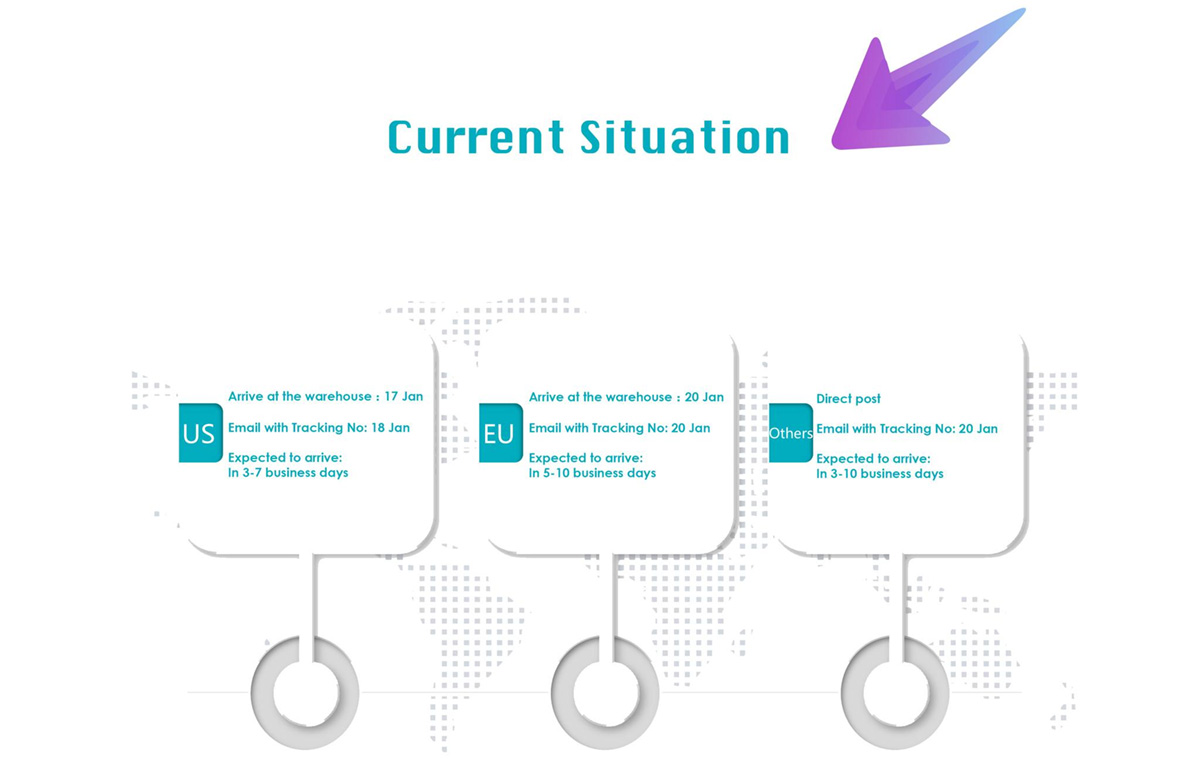 KEYi Technologies just posted an update on Facebook:
We would like to update the schedule and process of the repair kits for each country and region:

US: The Repair kits have arrived at the warehouse today and are in the process of generating tracking numbers, which will be emailed tomorrow (18 Jan). They are expected to arrive in 3-7 business days.
EU: Most of the repair kits are still in transit and are expected to arrive at the warehouse on the 20th, at which point we will send you an email with the tracking numbers. They are expected to arrive in 5-10 business days afterward.
Other Countries and Regions: We will send you an email with tracking numbers on 20th Jan. They are expected to arrive in 3-10 business days according to different countries and regions.

In order to prevent more problems with the Loona ear parts, we did more tests before this repair kit left the factory (replacing materials, changing the structure for comparison tests, etc.).
We apologize for the delay in receiving the repair kits, which was about a week later than expected. We will send you an email according to the above schedule and you will be able to get your tracking number by email.
Thank you for your continued understanding and support and we will endeavor to do better.
It would have been far better had they communicated the delays because of further testing early and transparently after they said in late december the kits will be shipped on january 2nd and arrive two weeks later. Now it will be a month later if nothing goes wrong.
And no new information at all about the serial numbers that have no tracking number attached.
Far more problematic is in my opinion that I got no  answer or reply at all from KEYi Tech about the fact that there is no tracking number assigned to my Loona's serial number in their Google Docs list. So it may be that my repait kit is not even on it's way and I will have to wait even more weeks for it. I can perfectly understand that problems can arise, but I expect at least that I am communicated with and that a solution is offered.
I am now considering to not do the repair but send them Loona instead, that would generate far most costs and effort for them, but seems to be the only alternative since they are not able to send me the repair kit. To a proven and correct adress they claim to be wrong. Way to go, KEYi.
[Update] The answers I get from the admin of the Loona Facebook group about possible delays because of the missing tracking number with some serials are very evasive and inconclusive. It looks like they are avoiding the answer if this will delay the delivery of these repair kits even further. "It is only a small percentage" does not help those that are affected the least.
Sigh.
[Update 2] Now the KEYi representative claims all will work out and the kits will be delivered, despite the fact that they yesterday said in a Facebook update that those serials without tracking code have problems with the zip code or the address. How will they make sure to deliver these kits if the adresses are wrong? I did not get any communication about providing a correct one despite multiple tries by me to clarify this? Why can my adress even be wrong if it is the same that my Loona was delivered to?
In my opinion KEYi needs to improve their communication or my positive view of them will be gone.
Infographic copyright KEYi Technologies