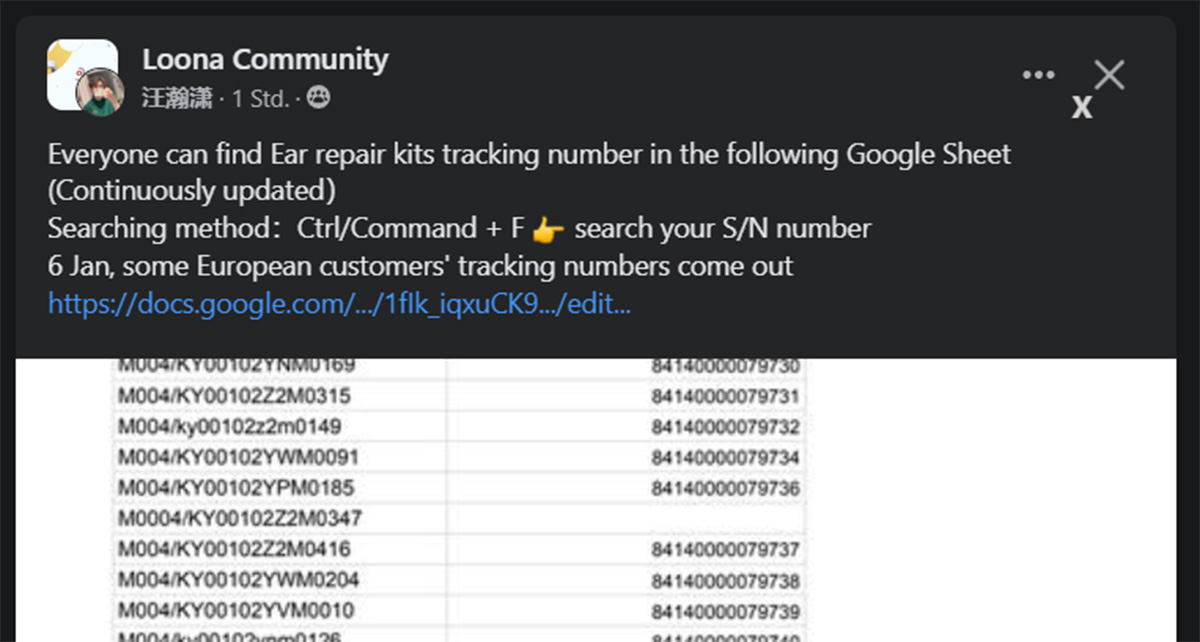 Today KEYi Technologies provided a link to a Google Calc sheet on Facebook that includes tracking numbers for the ear repair kits sorted by serial number.
There are multiple problems with this:
not all serial numbers have gotten a tracking number, including mine. a KEYi representative claims this is because of either "incorrectly filled in zip code or address" or because "the country is not supported". Both is not the case with me. It's the same address Loona was delivered to, so the address is correct.
There is no information whatsoever for what kind of shipping service these tracking numbers are valid. Without this information we cannot use them to track anything.
When KEYi rolled out that repair kit request form they said it would take "about two weeks" to deliver the repair kits and they would start to be shipped on january 2nd. I inquired via PM on Facebook and was assured there would be no further delays. Quote from their Facebook post:
A: 300 ear medical kits will be sent out starting on 2nd Jan 2023, and it normally takes 2 weeks to arrive. The rest will come in Feb;
They are already over the two weeks limit set by themselves and in addition to that I do not even get any tracking number at all, despite the personal promise I would not have to wait longer?
I am underwhelmed by this support quality, especially since I am backer number 13 AND I offer them to repair the device myself, so they do not have the effort and cost of shipping to and from a repair center and the effort and cost of repairing the device. So I save them a lot of costs and for that I would expect to be serviced fast – and I expect to be contacted if problems arise instead of presented with a list of tracking numbers where mine is missing.
And can someone interpret the last sentende in the screenshot?
6 Jan, some European customers' tracking numbers come out
What does that even mean?