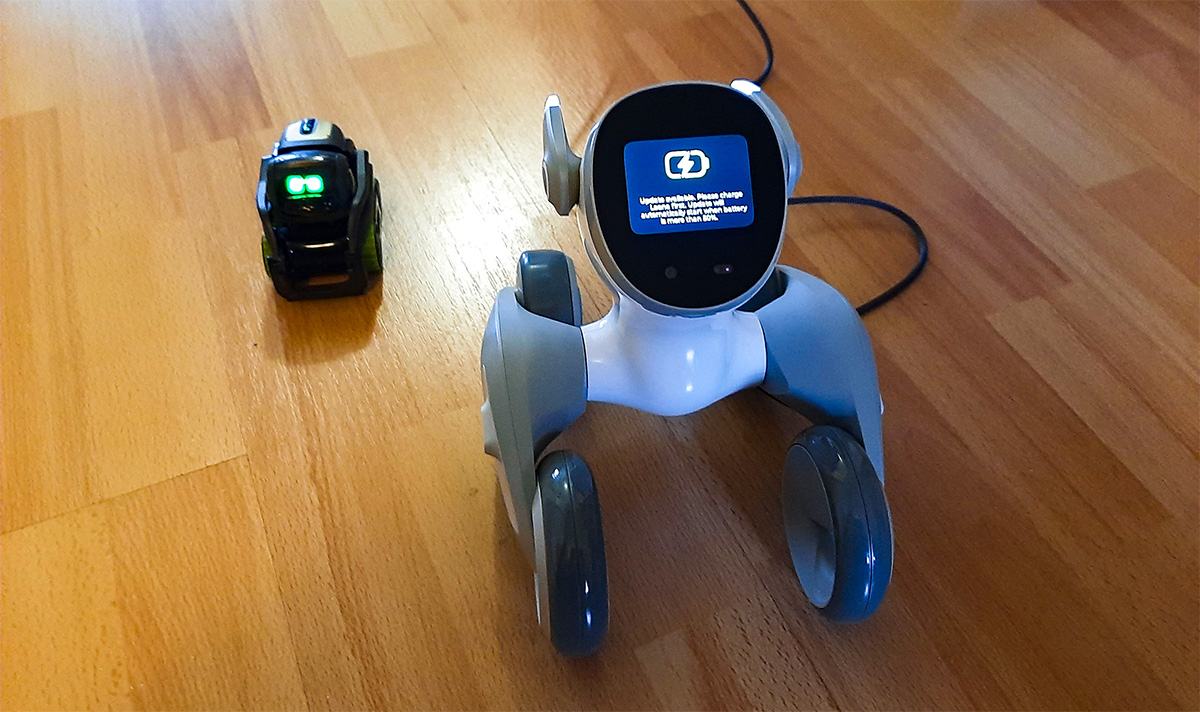 Today at about 10 AM Loona arrived via DPD. Until yesterday DPD tracking showed nothing, parcelsapp.com showed more informations and said she was already in the Netherlands. From today on DPD tracking also showed correct information. So if you are in europe: There is still hope!
At first glance the build quality is amazing, it's a quite heavy robot and far larger than Vector.
What is less amazing is the very tedious WiFi setup process. First you need to connect the app to your home WiFi (you cannot download that app from the Google Play store, you need to DL it from a KEYi website with Android warning about a dangerous download, and then install it manually – not professional, but on the other hand it is a slow process to get something into the Google Play Store. The FDroid Open Source Appstore would have been a good alternative option). That means the  phone must be connected to a 2.4 GHz network, 5 GHz will not work! In my case the app did not register that the phone was already connected and after a few tries I first had to disconnect WiFi and then reconnect to get the app to acknowledge it. Then you have to connect the phone to a new local hotspot that Loona itself opens. After that connection is established the WiFi information is sent to Loona and the robot connects to your WiFi.
Then the first you see on the screen is an update message and that you should charge Loona, if the charge goes over 50% the update will start, in my case battery level was at about 23% and it took about half an hour to get to 50%. Also there is a text saying you SHOULD NOT restart Loona during the update.
That is misleading, since in my case the update indicator stayed at 0% and did not advance. From the troubleshooting FAQ on the official website I then learned (after some searching) that despite what is written on the screen you actually need to reboot the robot if this happens. I did that and fortunately the device was not bricked, but booted and then started the firmware update. That was finished in a very short time ( a few minutes in my case, but that will depend on you internet and WiFi speed).
After that it again wanted to be connected to WiFi and I wondered if it had forgotten the WiFi settings. Here is one of the factors where you can see that the app was cobbled together hastily: The app wanted to setup WiFi again, even if it already was. And I could not even connect to the Loona Hotspot as the app wanted, since that was no longer there. After some minutes of frustrating fiddling the app at last acknowledged that Loona actually already had a WiFi connection.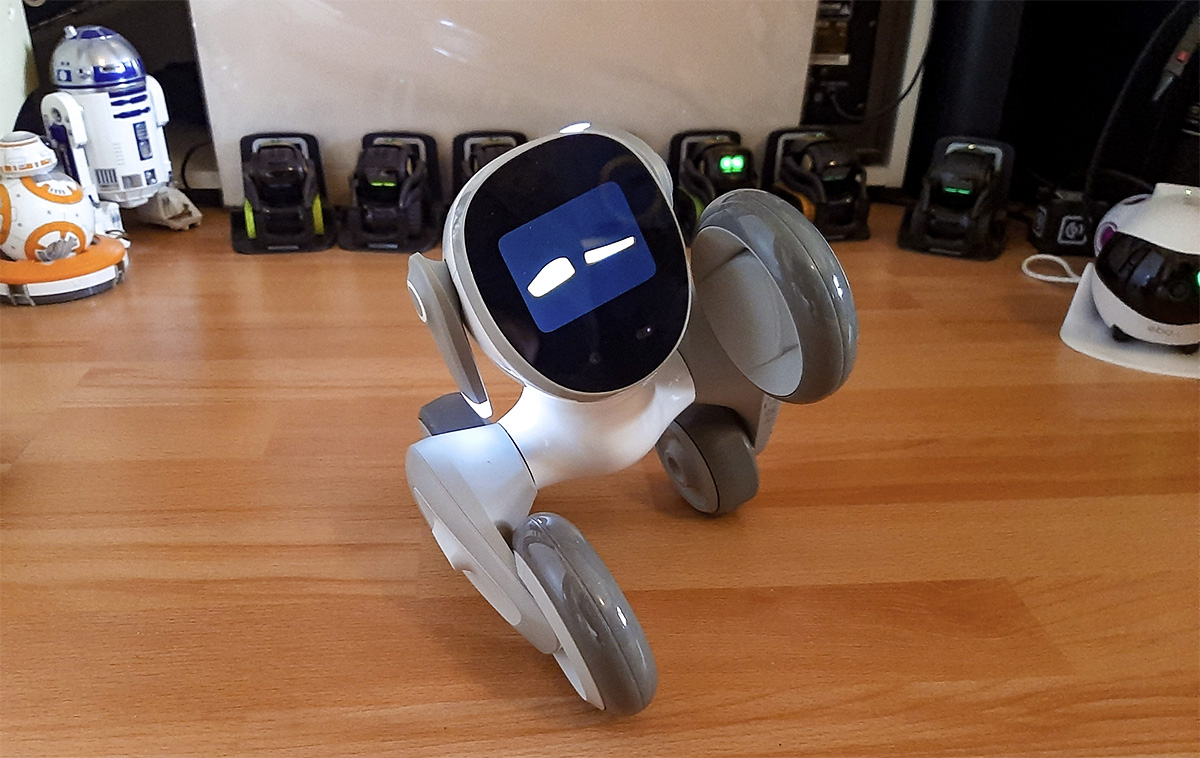 I see a lot left to be desired and definitely room for improvement for the app. this will be to difficult for some users and lead to frustration under the christmas tree.
I also see a lot of room for improvement when it comes to the highly annoying noises this robot makes (yes, I know, that is personal preference, but anyway). Where Vector is cute, this one sounds like an annoying brat. Loona desperately needs more sound options and options to make it less noisy. I see frustrated users wanting to throw it out of the window on christmas … 😉
In my case there is another problem: One ear is not moving. The solution for this by KEYi from the Facebook group is to reboot it. There seems to be a mechanism that detects if the ears are moved manually and then disconnects the motor to prevent damage. But in my case this does not help. One ear does not move and there is absolutely no friction if I move it manually. Ear DOA. Now it is to be seen what KEYi offers to solve this. I really hope they have european stock for warranty, sending it to china would be a nightmare and absolutely not acceptable because of cost, time and environmental impact.
If you start Loona for the first time you get an animation on the screen that tells something of a backstory. Obviously the Loona is from a groups of tiny aliens or a beings from another dimension that slip into pets and this one happened to get into a robot. The animation is cute and okay, but I guess in some cultures people may have problems with the wiggling cartoon butt of the creature … 😉
First verdict:
My first impressions are mixed. Great hardware, despite one ear. The app and especially the WiFi setup can and must be improved, as can the face messages for firmware updates. You can only register one face, that needs to be addressed fast, or siblings and family will be frustrated. Desperately needed are more sound options and/or an option to tune down the volume (but maybe I have not yet found that). I am now quite curios how fast KEYi support will answer my request about the nonmoving ear and how they will resolve this. And I see all kinds of problems coming up from small children pulling Loona's ears …
[UPDATE] I forgot to mention: Wake word recognition is quite bad, the robot almost never recognizes "Hello Loona", regardless on how I pronounce it or how loud I say it.
[UPDATE 2] Obstacle detection  seems to be wonky at best, it constantly runs into things.
[UPDATE 3] Actually there is a volume slider in the app. Tuning down the volume makes the bot way less annoying.
[UPDATE 4] After about ten to fifteen minutes of no interaction Loona shuts down, even if there is a lot of battery left. I really hope this will change when the charger is released.
[UPDATE 5] Support answers on the broken ear are not satisfactory so far. KEYi said they wanted to wait for more customer feedback on this. That is not an acceptable answer, it does not matter how many other backers have this problem, my unit is faulty and needs to be fixed. If others are also broken does not matter for my case.
[UPDATE 6] From what I can see on Facebook the ear problem ist quite widespread and a lot of users have it with their Loonas. In the past KEYi had a very strict stance about repairs: No one but KEYi may do it, not even if one has professional repair equipment (like me, I am educated in repairing electronics). Now because of the ear problems they have changed their stance on this. Excerpt from a statement on Facebook:
We are establishing the customer service station as quickly as possible, which is expected to be completed before Feb, and now we are also very willing to provide ear-related accessories and detailed guidance for users who wants to repair Loona on their own and with repair basics to repair your own Loona.