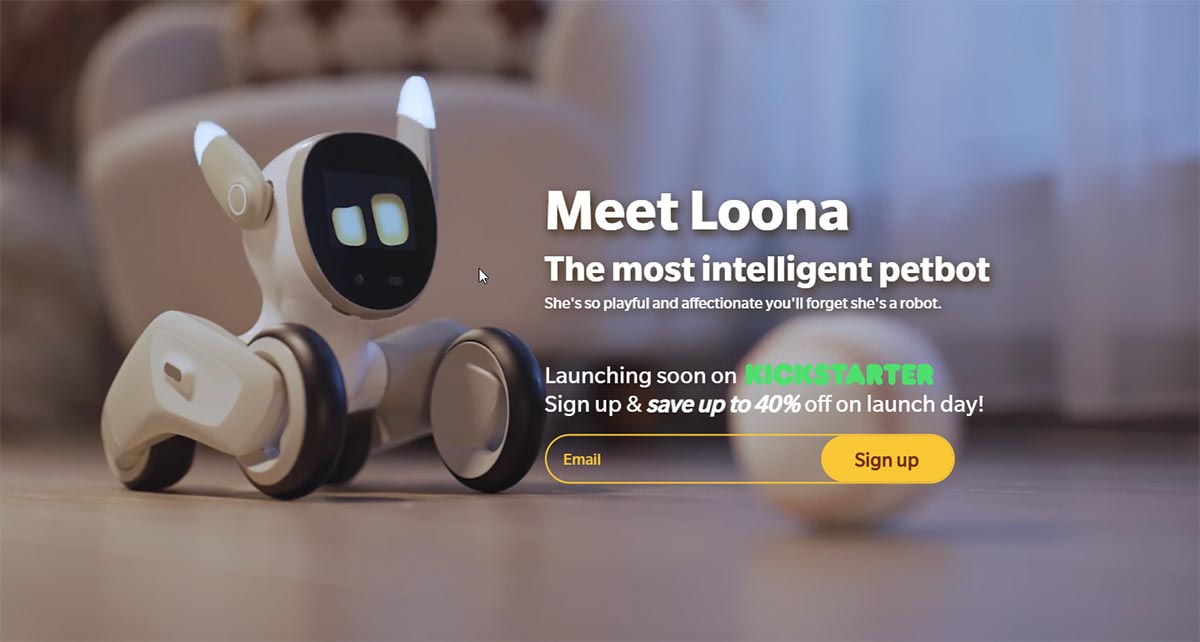 Digital Dream Labs, the company that is not able to create anything new or meaningful, again took down the campaign for Loona on Kickstarter. I have to admit that I expected something like this from the scumbags company.
This time they demand from Kickstarter to hold back the collected money and to not give it to KEYi to fulfill the pledge rewards.
The full statement that is readable on Kickstarter is quoted below.
It is hard to ascertain what actually happened with the last DMCA takedown and why Kickstarter plays DDL's dirty game of copyright trolling a second time. It is needless to say that the "arguments" provided to Kickstarter are no more valid than with the first takedown.
It is effing unbelievable how unethical Digital Dream Labs acts to prevent competition. Of course they have to, because they themselves are not able to provide anything new of note. They now have their dirty hands on the Anki asstes for years and where other companies provide monthly firmware updates, they provided nothing of note (only updates that break first generation Vectors). Vector 2.0 still only arrived at minimal numbers of preorderers. Nothing else was delivered, Butter Robot does not exist and so far I am not even confirmed that Cozmo 2.0 exists at all.
So this failure of a company has to use ways to take down the competition that one could call "Mafia methods". To me it looks like Kickstarter saw through their paper thin "arguments" the first time and they had to take back their DMCA takedown, and now they try it again. I hope Kickstarter is not fooled by this outrageous behavior and sees this like the copyright trolling it is – again.
I really hope KEYi Tech has a good law department and hits DDL hard.
To phrase this absolutely clear: If you pledged for Loona then Digital Dream Labs just tried to take your money hostage!
Update: I just received an email by Kickstarter. The interesting part of that email is as follows:
The law requires that we remove the project from public view until the dispute is resolved (please see our Copyright Policy and Trademark Policy for more info). Because the project already ended successfully, your pledge hasn't been affected. The creator should still be able to move forward with the project (and send any unfulfilled rewards). If you have any questions, though, you can still message the creator from the project page.
Emphasis by me. So it looks to me as if Kickstarter also has it's doubts. But we should be clear about the fact that KS writes "should still be able".
Update 2: Statement by KEYi Tech just received via email:
Dear Loona Backers,

We've been notified that our campaign has been hidden again due to the second alleged copyright infringement notice received by Kickstarter. As our campaign is successfully funded, most of you have been charged and all payments are currently collected by Kickstarter. This issue will not affect the pledge, we are still able to move forward with the project and the mass production of Loona begins this week. If the dispute is not resolved, the payment will be refunded to all of our backers.

KEYi is a company motivated by innovation and creation. We show deep reverence for intellectual property and put a lot of emphasis on originality. Since we are still in the process of resolving this issue with the other party, we ask for your patience and support. We will get Loona back, and deliver it to you on time!

Jianbo and The Loona Team
Below the new DMCA claim by Digital Dream Labs.
Meet Loona – The most Intelligent Petbot [Submitted by Meyer, Unkovic & Scott, LLP]

Date: 2022-11-01T12:26:54.000-05:00
Sender
[Private]
Meyer, Unkovic & Scott, LLP
535 Smithfield Street, Suite 1300
Pittsburgh, Pennsylvania 15222
US

Sent via online form

Recipient
Kickstarter, PBC
228 Park Ave S PMB 59430
New York, New York 10003-1502 US
USA

Re: Meet Loona – The most Intelligent Petbot

Description of copyrighted material: The copyrighted material is protected, in part, by two US registered copyrights issued on Wednesday, November 25, 2020, at Reg. Nos. PA 2-266-064 and PA 2-266-065 (copies can be provided upon request). These copyrights cover the "three-dimensional sculpture and audiovisual work" of two interactive Vector and Cozmo robots owned by Digital Dream Labs, LLC ("DDL"). The copyrighted materials includes the unique shape and design of the heads, faces and eyes of the Vector and Cozmo robots and also the graphics/animatronics and sounds associated with the actions of the robots. Copies of the deposits for both copyrights registrations also can be provided upon request. Also, the Vector and Cozmo robots can be seen here: https://www.digitaldreamlabs.com/ https://www.digitaldreamlabs.com/pages/meet-vector https://www.digitaldreamlabs.com/pages/meet-cozmo Vector and Cozmo are robotic companions made to socialize and assist the user. Powered by artificial intelligence ("ai") and advanced robotics, they are full of personality and engaged by sight, sound, and touch. In addition, earlier copyrighted audio material and other intellectual property rights of DDL are described in a Second Amended Complaint which is pending in the United Stated District Court for the Western District of Pennsylvania at No. 2:20-cv-01500 (a copy can be provided upon request).

Description of infringing material: The Loona robot and the entirety of the project violate and infringe the DDL copyrights and other intellectual property. In particular, the Loona robot substantially copies the facial graphics, animations and associated sounds of Vector and Cozmo associated with certain emotions or actions depicted in the Loona video or other graphics appearing on the Kickstarter project, including, without limitation Wake-up, Excited or Happy, Sad, Angry or Frustrated, Curious, and Go to Sleep. Further, the shape and design of Loona's face and eyes copies the shape and design of the Vector and Cozmo faces and eyes. In an analogous case, the United States District Court for the Western District of Pennsylvania, in analyzing protectable aspects of Vector and Cozmo under the audiovisual copyrights listed above stated that "the expression of such emotions through VECTOR's and COZMO's particularized eyes (size, shape, color, location, movement), along with the accompanying sounds creates a protectable expression of a robot's emotions." Digital Dream Labs, LLC v. Living Technology (Shenzhen) Co., Ltd. d/b/a Living.Ai and Emo Pet, 2:20-cv-1500, ECF No. 54 at 22 (W.D. Pa. Feb. 28, 2022) (a copy the Court's Memorandum Opinion can be provided upon request). NOTE: This is the third takedown notice submitted on this project. The project was taken down after the first notice. The copyright owner, Digital Dream Labs, Inc., understands that the project owner may have reported to Kickstarter that the notice has been resolved. At present, this is not true, and Digital Dream Labs, Inc. demands that the takedown be reinstated and that the project campaign funds be held in escrow because of the identified copyright infringements. SECOND NOTE – the owner of the Loona robot has suggested in a public post on the campaign page that the page was revised to avoid copyright issues. To be clear, my client's copyright does NOT apply to photographs previously appearing on the campaign page. Instead, the copyrights apply to the audiovisual display of the robot, and the the post confirms that the design and function of the robot have NOT changed. As a result, the robot is still infringing the DDL copyrights and the campaign pledges have been raised based upon an infringing robot. As such, DDL demands that all campaign pledges be held in escrow until the intellectual property dispute is resolved.