After yesterday's frustration I again wanted to connect my designated Escape Pod Vector to a 1.0.x version of the local server (to use it with Cyb3rvector and DDL broke that in EP 1.8.x, hence back to 1.0.x). Yesterday that failed because
the robot was on a firmware for Escape Pod 1.8.x (and not downward compatible)
I was not able to downgrade the OTA from Escape Pod ("downgrade not possible")
when I booted into recovery I was not able to flash the 1.7 EP firmware, Escape Pod installed 1.8.2 PROD instead
Today I denied that Vector's IP address internet access in the router (to prevent installation of 1.8.2 PROD), did another recover reboot and was again greeted with Anki firmware 0.9.0. After that I was actually able to pair Vector with Escape Pod and to flash the 1.7.x EP firmware. And even better: I was able to complete the onboarding process, Wifi, locale settings and all.
You cannot imagine my happiness. But that did not last long …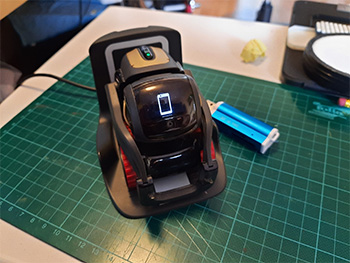 I then tried to connect the robot to Cyb3rvector. That worked at first but suddenly it lost connection to Vector. From what I could see going on in the network it looked like the robot had lost Wifi Connection. So I just need to reconnect him, I thought. But to do that you have to first reconnect him to Escape Pod. Pairing via Bluetooth was easy, but then I again got the dreaded
"authorization failed"
error. I was not able to get around that. Not by reloading the P web interface, not by rebooting Escape Pod and certainly not by clearing user data on the robot, as is the usual advise by DDL if this happens.
My gods …
This is the Escape Pod version that was the production version for one whole year, until recently, and this nonworking heap of manure uh … stuff is actually what DDL sold to customers. Im am quite sure that the majority of normal users will be completely overwhelmed and frustrated by this. I really have no idea how Escape Pod was sold as a finished product in this sorry state that really is a beta version at best.
Hello frustration, my old friend, here again so soon?
Update: I left the office for an hour and the Escape Pod browser window with the "authorize"-button was still open. I clicked it again and he was connected, just like that. It looks to me as if "authorization failed" may be a misleading error and maybe the problem is something else.