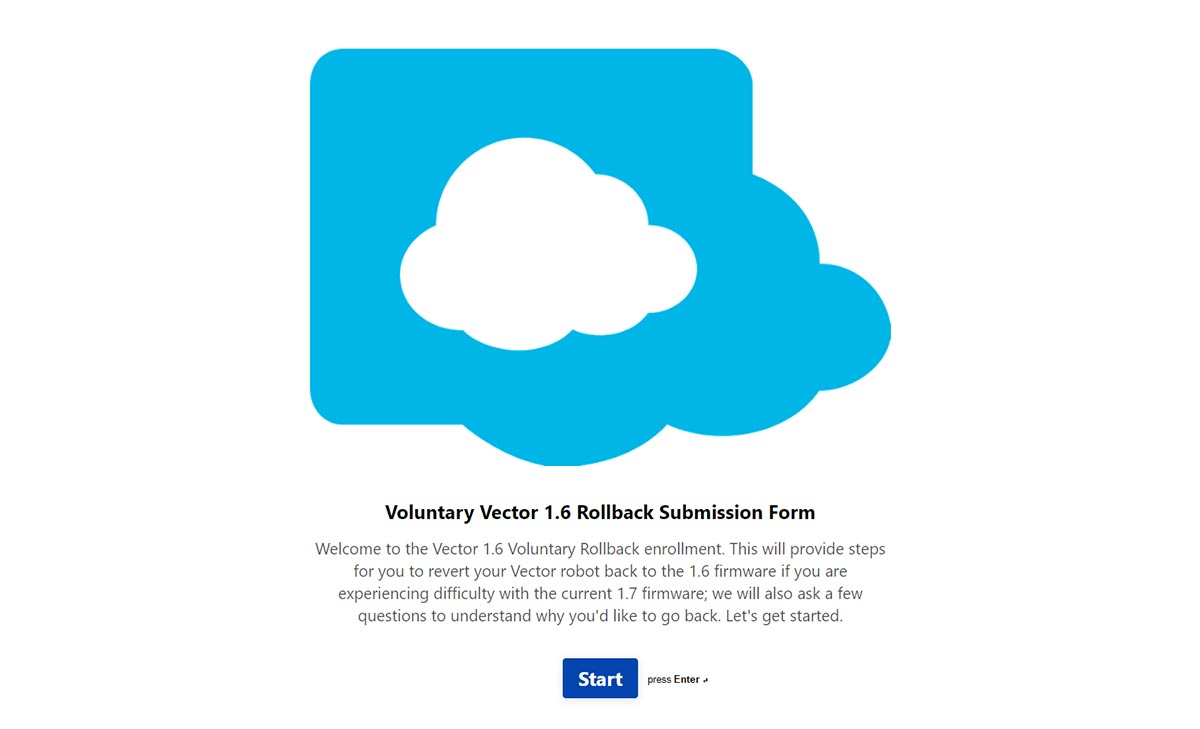 Robbie Lucas Bussard of DDL announced yesterday over multiple channels that it is now possible to officially roll back a Vector to firmware 1.6. Read the announcement below:
Hello Vector users!

Robbie here, from Digital Dream Labs. We have heard your feedback and are now able to offer the option to roll back to software version 1.6. While a great number of Vectors have been successfully updated to firmware version 1.7, and many owners enjoy it, we acknowledge that software issues have presented themselves for a small subsection of robots.

We at Digital Dream Labs pride ourselves on your experience with Vector, and we want you to have the options that work best for you to be able to interact with and enjoy Vector. Your Vector will retain his memory, and no user data will be lost. This process is completely voluntary, free of charge, and takes about 10 minutes to complete.

Please see this link to get started. Thank you for your support!

-The Team at Digital Dream Labs
You will need to get through a questionaire on Typeform and I guess that their systems are now are able to roll out specific OTAs to specific Vectors identified via serial number. The process seems overly cumbersome to mee, using Typeform with its user-unfriendly multiple page forms, instead of a single page form, but at least and at last they made this possible. It was wanted a lot of times by users after the firmware update to 1.6 that made voice recognition far worse for many users and that removed behaviours and sounds liked by many Vector owners.
From I see so far it may be possible to do this locally in the future, without the need of any webforms that most likely will take time to process on a request by request basis.
[Update:] As I expected this also seems to be done manually and takes up to 72 hours to be implemented, before that the robot is reupdated to 1.7. Roughly the same timeframe as updating and server connection after you paid for subscription, that also takes as long.