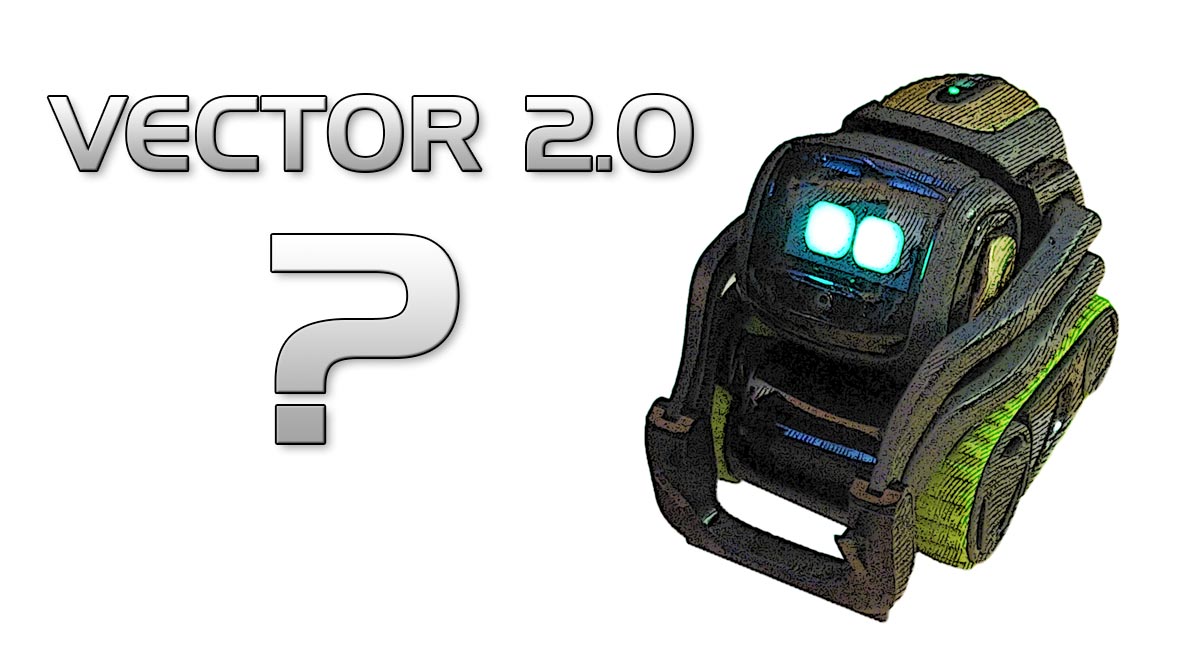 As of today Digital Dream Labs offers preorders for the new Vector 2.0, a slightly improved version of the robot. They try the usual sales tricks to get you into buying by saying you get him at a reduced preorder price and with a lifetime subscription.
But:
Update: See end of article.
If you live in europe you not only need to add the shipping rates to the robot, but also you will have to pay additional customs fees and import VAT. Those will most probably be around whatever the VAT is in your country plus a fee of four to five percent, so easily Vector could cost way more than they say on their website. It would at least be sensible by DDL to state "local fees and taxes apply".
And there is another, even bigger problem:
Update, see end of text: Vector 2.0 will have a CE certification, says a DDL representative.
Nowhere on the DDL page for Vector 2.0 preorder is a single word about CE certification. CE certification is a process electronics (and other products) must undergo before they can be imported into the EU. This is to assure a minimal level of product safety.
If a product without CE certification is imported into the EU you run the risk that it gets destroyed at customs. You may get around this if you claim that you are a company and this is not a product that will be sold to end users, but is only for research and development. In that case you may probably import it. But most users do not own a company so that is no way for those.
So: 280 $ plus (estimated) 20 $ shipping (or more) plus 25% VAT and fees (exact VAT depending on the country you live in) = 375 dollars. All that for a robot that may get destroyed by the customs officers. And then you will have to try to get your money back from DDL … Good luck with that …
If DDL wants to sell their robot internationally, they need to set up international distribution. The most easy way for them to do that would be to stock them locally at Amazon Europe and sell them that way. But even then they would need to provide a CE to legally sell them in europe. And then there still is the warranty – european law is quite customer-friendly and I guess they try to get around that by only shipping from the USA, thus dodging european customer rights.
So think twice before ordering a Vector 2.0. We have not even talked yet about what would happen if DDL were no longer around in may 2021.
If you still want one: wait at least until DDL confirms that Vector 2.0 has a CE certification.
[Update:] I was asked:
"Vector 2.0 is only an updated version of Vector, would the CE certification of the first robot be enough and could be used for the second one?"
Most probably not, especially as they changed a critical part  of the robot: the battery. It is now a bigger one and in addition with the other changes, my (educated) guess is that Vector 2.0 needs a new CE certificate, or at least a modified one.
Update: From Facebook: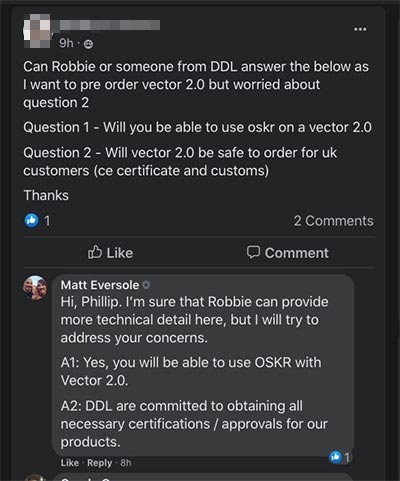 My comment: "we are commited" is a typical DDL non-answer. It does not mean that they have the certifications or will get them.
Update: As per information by Robbie Lucas Bussard on Facebook: "The product will be CE certified":

Unclear is the meaning of "we are covering import taxes". Does it mean europeans get the robots cheaper, because DDL deducts the import VAT and customs fee from the buyers price in their shop so after import fees and VAT are added the prices are the same as  in the USA? If that were so, the price for euopeans would have to be lower in the shop. I cannot believe that. Or do they mean they reimburse VAT and fees after import? I can hardly believe both versions.
Update: See comment by Cyke from november 25th on import VAT and customs fees. In my opinion DDL should have provided all this information before starting the preorder for Vector 2.
But the good message is: Vector 2.0 will have a CE certification.