Updated: Statement from Living.AI that came via Kickstarter mail added at the end of this article.
As of yesterday the Kickstarter for Living.AI's Desktop pet Emo ist down again, because Digital Dream Labs filed a copyright complaint with Kickstarter. You can read the text below.
Very interesting in that scope is that DDL also filed a DMCA complaint against an unofficial Emo Facebook group. That is highly questionable legally in my opinion, as an unofficial Facebook fangroup cannot, in itself, violate a copyright just by discussing another product that may or may not be a copyright infringement. Just discussing a topic, even a controversial, is clearly covered by free speech. As long as the users do not post any copyrighted material about Cozmo or Vector there, no copyrights are violated in the terms and meanings of copyright. Plus there is fair use. So to me this looks like abuse of DMCA and copyright laws in a similar way Warner abused a DMCA takedown notive against Github to take down Youtube downloader. This is most probaby copyright trolling by abusing DMCA to do things it was not meant for and to prohibit free speech and the free exchange of opinions.
The pity is that Facebook is a monolithic walled garden and you have nearly no easy way to protest a false or wrongful claim. You would need to hire lawyers to get Facebook to unlock the group and no fan would do so just to run a Facebook fan group, since the effort is way to big and time consuming – and DDL is most probably counting on that.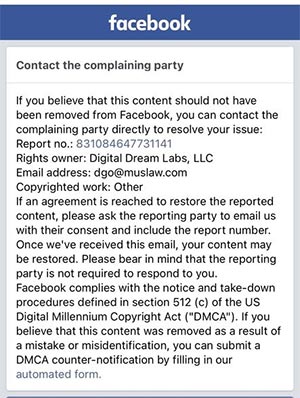 Aside from the fact that so far no court actually ruled that Emo violates DDL's copyrights and patents and DDL just claims so, personally I think it is a very, very bad move to try to silence even more critical voices. They boot people in great numbers from their elitist Facebook group, some just for mentioning problems with DDL's services, and now they try to shut down Facebook groups that do not suit them? Seriously? It is quite obvious that they do not think much about the basic human right of free speech. A truly open, transparent and professional company would not have to use such measures to silence criticism, they would just address it and talk to it's users – and backers that gave them money – instead of trying to suppress those voices. What they do looks quite arrogant and typical last century american company behaviour where "support" and "user friendly" are just hollow words. This is quite different from the way startups usually work to get user sympathy, but they have the Kickstarter money and will not give it back, so it is of no concern to them if the crowdfunding backers are offended or not. They just don't have to care and they obviously do not care.
Especially seeing that nothing from the Kickstarter was delivered so far (OSKR is in a mostly unusable state and most parts are still missing with no date of release, Escape Pod is nowhere to be seen) my doubts if DDL actually is able to pull this off are increasing more and more, sadly.
A way for Living.AI and Emo fans to discuss this without the fear of Facebook would be to either setup a self-controlled forum or to set up an instance of any Fediverse flavour, for example a Hubzilla Hub. There you can post information and even create groups on you own instance of a social network that consists of independent nodes that are interconnected and exchange posts and other data. Because of the peer2peer strategy of the Fediverse and the possibility of nomadic, cloneable accounts, it would be very hard to impossible to shut information down with phony DMCA claims in the Fediverse.
Please be clear of this: I say nothing about the validity of DDL's claims. This cannot be ruled by any random Facebook or internet commenter and it also cannot be ruled by Jacob Hanchar, this can only be ruled by a court. And until then the case is open, anything can happen and any claims about copyright infringements are just that: claims. But the constant tries by DDL to silence critical voices is just plain unethical.
Following is the copyright takedown text from Kickstarter:
Emo: The Coolest AI Desktop Pet with Personality and Ideas [Submitted by Meyer, Unkovic & Scott, LLP]
Date: Nov 27, 2020

Sender
[Private]
Meyer, Unkovic & Scott, LLP
535 Smithfield Street, Suite 1300
Pittsburgh, Pennsylvania 15222
US

Sent via online form

Recipient
Kickstarter, PBC
58 Kent Street
Brooklyn, NY 11222
USA

Re: Emo: The Coolest AI Desktop Pet with Personality and Ideas

Description of copyrighted material: The copyrighted material is protected, in part, by two US registered copyrights issued this week on Wednesday, November 25, 2020, at Reg. Nos. PA 2-266-064 and PA 2-266-065 (copies can be provided upon request). These copyrights cover the "three-dimensional sculpture and audiovisual work" of two interactive Vector and Cozmo robots owned by Digital Dream Labs, LLC ("DDL"). The copyrighted materials includes the unique shape and design of the heads, faces and eyes of the Vector and Cozmo robots and also the graphics/animatronics and sounds associated with the actions of the robots. Copies of the deposits for both copyrights registrations also can be provided upon request. Also, the Vector and Cozmo robots can be seen here: https://www.digitaldreamlabs.com/ https://www.digitaldreamlabs.com/pages/meet-vector https://www.digitaldreamlabs.com/pages/meet-cozmo VECTOR® and COZMO® are robotic companions made to socialize and assist the user. Powered by artificial intelligence ("ai") and advanced robotics, they are full of personality and engaged by sight, sound, and touch. In addition, earlier copyrighted audio material and other intellectual property rights of DDL are described in a Complaint which is pending in the United Stated District Court for the Western District of Pennsylvania at No. 2:20-cv-01500 (a copy can be provided upon request). This Complaint will be amended shortly to include the above copyright registrations on the structure and audiovisual content of the Vector and Cozmo robots.

Description of infringing material: The Emo robot and the entirety of the project violate and infringe the DDL copyrights and other intellectual property. In particular, the Emo robot substantially copies the facial graphics and animatronics and associated sounds of Vector and Cozmo in connection with the actions of the Emo robot, including, without limitation, the Wake-up Animation / Sound, "Curious" Animation / Sound, "Surprise" Sound, and "Dizzy" / "Alarm" Sounds shown in the Emo video of the Kickstarter project. Similarly, as detailed in the filed Complaint, the animations and eye shape of EMO when prompted by the user about the weather are virtually identical to those currently installed and used in VECTOR® . Further, the shape and design of Emo's head, face and eyes copies the shape and design of the Vector and Cozmo heads, faces and eyes – as also detailed in the Complaint. The newly issued copyright registrations identified above reinforce copyright protection for the three-dimensional design and structure of Vector and Cozmo. The confusion created, and infringement of DDL's rights, by Emo is enhanced because the owner of Emo initially sought to promote Emo as a "friend" of Vector. In particular, earlier this year, Living.Ai utilized a series of posts on the social media platforms Instagram® and Facebook®, including a Facebook® page with multiple posts indicating that "VECTOR® and EMO are friends," while also uploading a pre-launch marketing video to YouTube®. Also, a pre-launch marketing video released by Living.Ai on its own website, YouTube® page, and Facebook® page included a segment where VECTOR®, which is exclusively owned by DDL, is placed next to EMO and EMO reacts. DDL was successful in having these earlier posts removed based upon infringement of intellectual property rights, including trademarks and copyrights.
An email from Living.Ai via Kickstarter mail system arrived in my mailbox at 11:33 am CEST (so they already implemented a forum):
Dear Emo backers,

Thanks so much for your support on Emo project. If you have already backed us on Kickstarter, rest assured that your pledge is secured. Please be noted that the you won't be charged any fees before the campaign is successfully funded and ends. We launched Emo Kickstarter campaign with the lowest prices and your shipping is on top of our list.

3 hours ago, we received a notice from Kickstarter that the Emo campaign was temporarily paused with intellectual property dispute, which our legal team found it is based on a completely meritless intellectual claim. It's a usual procedure to hide the campaign page after our legal team resolve this issue. In the mean time your pledge record is secure but your card won't be charged.

According to the Kickstarter rule the pledge will be charged after the campaign ends. That means you won't be charged until the project resumes and ends. Our legal team is handling this issue and we'll be back soon.

In a word, please know we are still here and will aways be transparent to you. Stay tuned we'll be back soon. If you have any question you can talk to us via email service@living.ai.

Visit Living.AI's official website to learn more info.
https://www.living.ai

Or join the conversation in our official forum to meet more people like you
https://www.living.ai/forum

—
With Love
Living AI Team
Emo Promo Image Copyright Living.AI