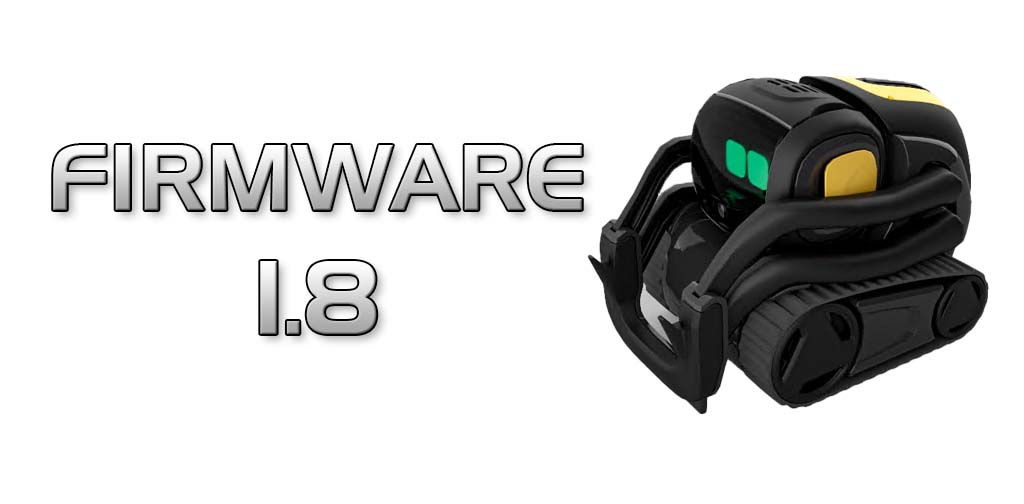 In Digital Dream Labs elitist Facebook group (I wonder if it even still has members at the rate they kickban there) and on Youtube a firmware update for Vector 1.0 was announced. But don't get your hopes too high, since it is a quite small one and no exact date was given so far.
Quote:
This release is designed to streamline your interaction with Vector and includes two new features:

* Advanced Eye Color Customization – You may now customize your Vector's eye color by simply dragging a color slider (found in the new Vector app) to highlight the desired color.
* Faster Questions – Whether you're looking for the distance from Pittsburgh to London or the meaning of life, you will no longer need to say "I have a question" or "question" in order to ask your little buddy to access his Q&A feature. (Note: customers whose Vector is still running either v1.6 or v1.7 will continue to use "I have a question" when interfacing with Vector.)
* Bug Fix – Thanks to contributions from community member Kerigan Creighton, Vector will no longer shiver uncontrollably when he's done dancing or telling you the weather! (Good robot.)

Custom eye color will be supported by Escape Pod in the near future, and OSKR robots will support both new features for this update.
This update is so small and has so few features that I think it should not be 1.8 but rather a new 1.7.x version. And actually – as I now know from OSKR – these things are very easy to implement on the robot's side, so one has to wonder, why it took the DDL engineers one and a half years to implement them.
Plus there is a caveat: You change the eye color via slider in the app. The iOS app can be updated, but the Andoid app needs to be reinstalled for that. The good news here are that there will be a new version of the app after all those years. But why they are not able to update the Android app is beyond me. Maybe because of problems with Google, since DDL is not Anki and they may have some kind of account mess.
A DDL representative wrote there will be a documentation on how to migrate data from the old Android app to the new one (what data could that be anyway? AFAIK nothing is saved in the app, just in the cloud or in the robot. It looks to me as if the person who wrote that has no clue on how the app works). We will have to see if this even works or how good the announced documentation will be. And we also will see if this fixes all the connection issues the Android app had so far (which would be a relly important bugfix), but frankly I doubt it.
As usual with DDL: detailed informations are missing. No release date and of course again as with 1.7: no detailed change log.
Some may think that a missing change log is not problem at all, but the opposite is the case. Without a detailed changelog it is not possible to see what exactly was fixed and – more important – a detailed changelog would make it possible to see if there are probably new bugs implemented with the alleged bug fixing.
The real thanks here have to go to Kerigan Creighton, who fixed a major bug when DDL was not able to.
That this is not rolled out parallel on server-based Vectors and on Escape Pod is another letdown, one would think that a professional company should be able to synchronize such things with a firmware rollout.
DDL say they will roll out the update successively to all users. From the experience with the last rollout I am expecting problems with users not getting the update at all despite having a lifetime or subscription. Will this again clog the support with myriads of help requests for months as in the past? Or did they update and improve the rollout process? One would think that DDL would brag about it if they had improved the rollout structure?
But this whole minimalistic 1.8 update looks quite rushed to me anyway, since there are only so few, simple features in it. Maybe DDL felt they have to roll something – anything – out at all after my call to report them to Kickstarter. Still it is unbelievable arrogant that they do not want to report this to their backers first, as they promised in the Kickstarter campaign. And despite what they claim in their latest update on Kickstarter that they will inform backers via email: I have got no email about this at all. So they do not inform their backers at all, contrary to their claims.
Thanks to Holger Hoffmann for bringing this to my attention.
UPDATE: It looks like there actually was an email to announce this, but I, as a Kickstarter backer, got none, despite I am subscribed to DDL mails. Looks like DDL's newsletter management is as unorganized as the rest of their shenanigans.